What is a good translation?
A translation is not just a verbatim transmission of a text into another language. A good translation conveys the content of the source text in such a form that the impact of the text stays the same in the foreign language. Differences between the source culture and the target culture may require an adaptation of the text. A translation is good when it is not perceived as a translation but simply as a good text. Such a translation fits perfectly into the target language as well as into the target culture.
What do I offer?
I deliver high-quality translations that fit into the target culture. Feel free to contact me for a no-obligation quotation for any text from general presentations to specialist texts in the following language combinations:
Finnish – German
German – Finnish
English – Finnish
French – Finnish
While translating I pay utmost attention to precise use of terminology and to consistency throughout the text. The wishes of the customer on specific, for example company-internal terminology will always be observed. Furthermore, I maintain individual terminology databases in order to guarantee terminological consistency of iterant text types.
How do I guarantee quality control?
For quality management and for assurance of consistent use of terminology I use the market-leading translation memory software SDL Trados Studio 2011.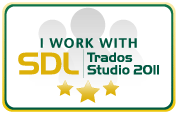 A part of the quality of my translation services is naturally the strictly confidential handling of all data of the customer and the absolute non-disclosure of documents. As a translator I am bound to confidentiality as defined in the Code of Professional Conduct (in German) of the German Federal Association of Interpreters and Translators (BDÜ e.V.) of which I am a member.
My activities as a translator are covered by insurance policies of R+V Allgemeine Versicherung (financial loss liability policy) and Generali (business and professional liability insurance policies).
What are my subject areas?
My areas of expertise include but are not limited to:
business economics: financial statements, terms and conditions, employee surveys
law: contracts
European Works Councils: agreements, presentations, minutes